OVNS JC01 Mod and Pods Review: Juul-Compatible Mod and Pods
Why should you read this OVNS JC01 mod and pods review? Since Juul has picked up the lion's share of the vaping business in the country, it's likely that you started with a Juul device. Even if you're a purist with a big mod on your desk, you have probably seen the Juul around. Like many of us here at VaporScapes, you might even feel pretty satisfied with the quality of both the Juul device and Juul pre-filled mods.
However, you might agree with us that the expensive, pre-filled pods, lack of flavors, battery life, and weird charger could be improved upon. If so, take a moment to consider this review of one of the most highly rated Juul-compatible device and company.
OVNS JC01 Mod and Pods Review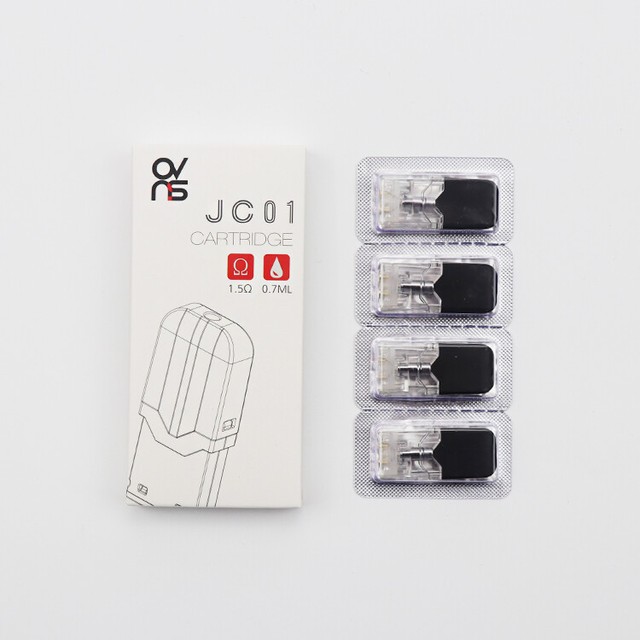 Any OVNS JC01 Mod and Pods review has to begin by stating that not only does the JC01 work well with Juul pods, refillable OVNS pods work with Juul devices. These two devices are interchangeable with each other.
Do you Want to Buy a Juul-Compatible OVNS JC01?
Since the OVNS JC01 is perfectly compatible with Juul devices, this is a good option if you'd prefer to buy a backup for a Juul device that you already own. For instance, you might keep one at home charging and take the other one to work. Any prefilled or refillable pods you buy for one of them will work with the other one.

OVNS JC01 Mod and Pod Advantages
It's easy to understand the main advantages of the OVNS JC01 mod and pod over a Juul device and Juul pods:
Charger: The OVNS JC01 comes with a regular micro-USB charger and not a proprietary charger, If you have a phone and other devices that use a micro-USB charger, you will probably find the JC01 charger more convenient. If you leave your OVNS charger at home, you can simply use a micro USB charger in a pinch.
Battery: The OVNS comes with a 400MaH battery, so you can enjoy more power and a longer battery life. The Juul offers a 200MaH battery.
Pods: You can choose between regular pods and ceramic pods for the OVNS JC01. JC01 pods are sturdier than Juul pods and easy to refill. Eventually, the coils in the pods will wear out, but you can buy a pack of replacement pods for about $7 online or at vape shops.
Price: Typically, Juul devices cost about $35. Packs of four pre-filled Juul pods usually cost about $16. Meanwhile, you can purchase an OVNS JC01 device for less than $20, and it comes with one refillable pod. Again, a pack of three replacements for the JC01 typically cost about $7, and you can refill each one multiple times before you need to replace it. You'll need to buy vaping juice to refill the pods, but a 30 ml. bottle that you buy for about $20 can refill the .7 ml pods dozens of times.
OVNS JC01 Disadvantages
Any OVNS JC01 mod and pods review has to cover some disadvantages of the OVNS JC01 as well. Even though you can save money and enjoy more variety with refillable pods, you might enjoy the convenience of Juul's pre-filled pods. Again, you can use JUUL pods or any Juul-compatible pods with the OVNS JC01, so this isn't a big drawback.
These are some other differences to note between a Juul and OVNS JC01 device:
People usually say that the draw on the JC01 is a little harder than the Juul. Some folks dislike the stronger pull, but others say they prefer it.
The OVNS is shaped like a rectangle, so it's shorter and wider than the Juul device. Again, this may or may not be a problem for you. Like the Juul, the OVNS is also very slim and light. It easily slips into a pocket or pocketbook.
OVNS Pod Alternatives
Update: Note that you can choose between the W01 and JC01 pods. The big difference between these two is that the JC01 has a ceramic coil and may be better for thicker juices, oils, etc. The W01 is better for thinner liquids.
This Reddit thread has a good discussion of the topic: https://www.reddit.com/r/juul/comments/ax41d1/jc01_vs_w01/
Is the OVNS JC01 a Good Vaping Device?
People who own Juuls are used to a certain standard of quality and reliability. The good news is that Juul owners are usually satisfied with OVNS products, including the JC01 device and its pods. It's also convenient to have the option to buy either Juul pods or to simply refill pods with e-liquid. Here at Vapor Scapes, we know many Juul users who also have an OVNS JC01 as a backup device — and of course, visa versa.